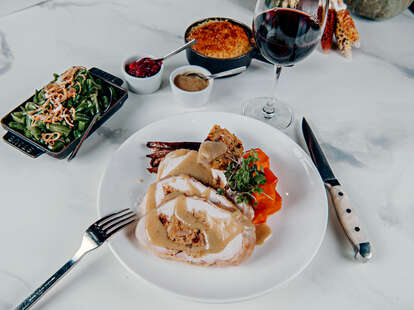 STK is a new-style Las Vegas steakhouse from The One Group and Executive Chef Stephen Hopcraft. STK features a bustling bar scene, an inspired menu, and a relaxed dining atmosphere with a sexy vibe created by the in-house DJ...
Tuesday
4:00 PM - 11:00 PM
Wednesday
4:00 PM - 11:00 PM
Thursday
4:00 PM - 11:00 PM
Saturday
2:00 PM - 12:00 AM
Think of the $69 Paloma bucket as a new kind of bottle service—one that matches STK's reputation as a steakhouse that mixes great flavors with fist-pumping beats and a rousing nightlife scene. The 375-milliliter cocktail is made with Espolon tequila, four bottles of Fever Tree grapefruit, fresh lime juice, and glassware sporting a Tajin rim. It pairs well with food that's also designed to share, especially the 34-ounce bone-in ribeye and shellfish platter.
How to book: Try your luck in the lounge area or book a reservation online.
The Cosmopolitan's party-centric steakhouse is putting a fine-dining touch on its Thanksgiving meal. Roasted Free Range Turkey Breast with confit turkey thighs is served with Foie Gras Stuffing, Maple Sweet Potatoes, Sweet Corn Pudding, Brussels Sprouts, and cranberry. Save room for the dessert of Spiced Pumpkin Pie with candied ginger cream and caramel honeycomb. The meal is available all Thanksgiving weekend, Thursday November 24-Sunday, November 27.
Cost: $79 per person.
How to book: Call 702-698-7990 or book a reservation online.
Tuesday
4:00 PM - 11:00 PM
Wednesday
4:00 PM - 11:00 PM
Thursday
4:00 PM - 11:00 PM
Saturday
2:00 PM - 12:00 AM