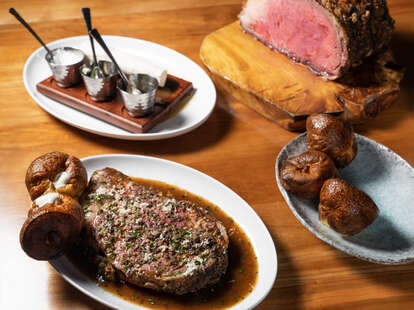 Photo courtesy of StripSteak
Photo courtesy of StripSteak
Tuesday
4:00 PM - 10:00 PM
Wednesday
4:00 PM - 10:00 PM
Thursday
4:00 PM - 10:00 PM
Saturday
4:00 PM - 10:00 PM
Michael Mina's StripSteak closed for a few months at the end of 2022, giving the restaurant a chance to undergo a renovation and introduce some new dishes. The whole place just looks and feels better with warm amber lighting, wood tones, a touch of Mid-Century modern style, and less clutter. A secluded private dining room with its own corridor took over a space once used as a casino security room and is like a private lounge with artwork, gold drapes, and seats for up to 72 people. The food you already love is still here, including the complimentary duck fat fries and butter-poached, mesquite-grilled steaks, but you'll want to try plenty of new stuff too, including caviar jelly donuts, sweet truffle cornbread, and Wagyu Prime Rib aged for 45 days in duck fat. As always, StripSteak likes to play with Asian influences, so make a point to order the Hamachi nori tacos and a crispy Dungeness crab cake with a miso cauliflower cream.
How to book: Call 702-632-7200 or visit Seven Rooms to book a table.
Michael Mina's steakhouse has a playful, casual side—seen immediately in the complimentary duck fat truffle fries that kick off every meal and a wide-open dining room that feeds off the energy of the casino while ignoring any pretentiousness. Just look at all the Raiders hats and shirts after a game wraps up next door at Allegiant Stadium. However, there are no shortcuts with the food, especially the steaks, which are butter-poached and finished on a mesquite grill, locking in a juicy tenderness and flavor. Asian influences are felt in a selection of robata skewers and the shiro-dashi vinaigrette that tops the seafood entrees.
How to book: Call 702-632-7200 or visit Seven Rooms to book a table.
Tuesday
4:00 PM - 10:00 PM
Wednesday
4:00 PM - 10:00 PM
Thursday
4:00 PM - 10:00 PM
Saturday
4:00 PM - 10:00 PM