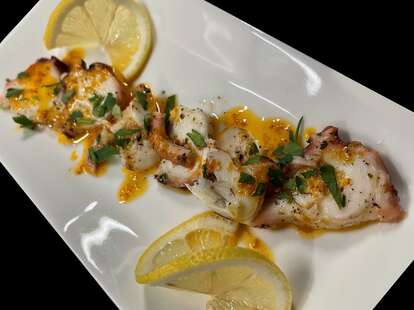 17 of the Most Fabulous Places to Drink Cosmos in New York City
Sugar Monk was inspired by the speakeasies that once thrived in its Harlem neighborhood, something you can immediately feel after stepping into the moody bar decorated in rich jewel tones. Both of its founders are creatives in the true sense of the word — one a mixologist and visual artist, the other a photographer and designer — so every drink at Sugar Monk is a complete sensory experience.
NYC's Best Bar Snacks Actually Worth Paying For
Up in Harlem, dimly-lit two-year-old cocktail lounge Sugar Monk is ready to offer guests six bar stools and a Mediterranean-inspired snack menu. Co-owner and head mixologist Ektoras Binikos hails from Greece, and a number of the bar's dishes––such as the hummus, moussaka, and harissa-laced, marinated octopus––are old family recipes. Pair any of the aforementioned with globally-flavored cocktails like the The Runnable Stag, which blends 12-year Scotch, Suze, Salers, star anise, and orange bitters.