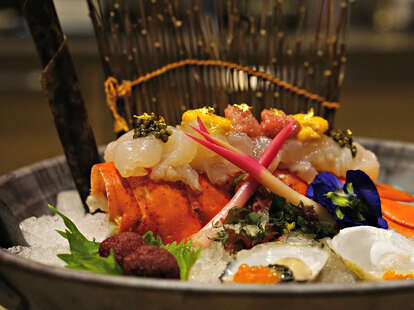 Higher-end omakase restaurants like Yui Edomae and Kabuto are among the best meals you'll experience in Chinatown—or anywhere, really—but Kame has mastered the concept with an edge on creative presentations under the direction of chef and owner Eric Kim. Intimate seatings are just twice a night (6 and 8:30 pm) with sushi rolled on the spot, lightly seared certified Kobe beef, and other delicate bites. Most of the fish is flown in from Japan. The Lobster Sashimi is an extravagant staple, topped with caviar and Hokkaido uni. You'll also enjoy the fattiest cuts of tuna (like kamatoro, sliced from behind the jaw) and inventive appetizers that use the liver and other unexpected parts of a fish. On any given night, seafood can be used in a hotpot, handroll, or even risotto as part of your multi-course meal.
How to book: Kame suspended a la carte dining during the pandemic and is exclusively serving omakase presentations with reservations required. Call 702-771-0122 to inquire about availability.
Sushi Kame works best when you don't think about the menu too hard and leave the fate of your meal in the hands of chef Eric Kim and his experienced kitchen team. Indulgent, seasonal tasting menus are the specialty, whether it's omakase in a private dining room or an all-encompassing kaiseki experience in the main area. No matter how you order, each bite is based on carefully sourced ingredients and delicate preparation; seen in full effect in fresh seafood rolled into sushi, lightly seared certified Kobe beef, and a lobster sashimi served outside its shell with caviar and gold flakes. Even the hot pots feel like something special. Sushi Kame succeeds on multiple levels, covering a complete meal from beginning to end, not to mention some of the best cocktails and desserts in Chinatown.
How to book: Call 702-771-0122 to book a reservation. Omakase seatings are at 6 pm and 8:30 pm (with an extra 11 pm late-night seating on Saturday and Sunday).