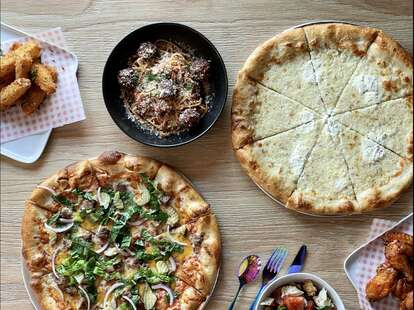 Photo courtesy of Swift Pizza Co
There's no denying what you'll be digging into from the moment you pull into Swift Pizza Co.'s parking lot—the large, 3D pizza sign decorating their front door will have you drooling like a Pavlovian dog before you've even set foot in the dining room. The crew behind popular restaurants Jacoby's and Grizzelda's opened the pizzeria earlier this year—and, with colorful interior accents and comfort food sides (AKA Chicken Tenders and Mozzarella Sticks), it's a perfect place to bring kids, as well as your boyfriend who acts like a twelve-year-old. But let's get to the pies—in particular, the West Texas, which with smoked beef, pimento cheese, caramelized onions, and barbecue sauce, is East coast-style thin crust meets Lone Star state flavor.
How to book: Order take-out via Toast.