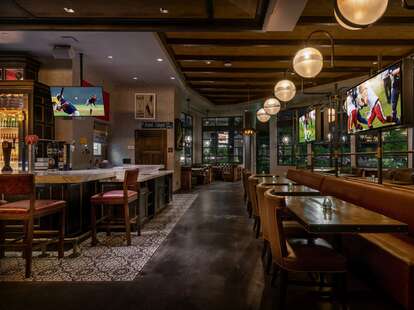 Photo courtesy of Tailgate Social
The game has officially changed. Tailgate Social inside Palace Station is Las Vegas' most complete sports bar, featuring a value-friendly menu of mouthwatering eats, an oversized beer list with hard-to-find brews and domestic favorites, and more than 30 high definition TVs for an unrivaled viewin...
Tuesday
5:00 PM - 10:00 PM
Wednesday
5:00 PM - 10:00 PM
Thursday
5:00 PM - 10:00 PM
Saturday
5:00 PM - 10:00 PM
Sunday
11:00 AM - 10:00 PM
Tailgate Social works best when you bring friends. Much of the food is designed to share. Most notably the Tailgate Nachos (with the option to sub fries for chips), wood-fired pizzas, and a crazy stromboli that's four-feet-long. A special menu is offered on NFL game days with an expansive beer selection. Located in a tight corner of the Palace Station casino, Tailgate Social is bright and spacious for sports bar standards, especially with a long wall of floor-to-ceiling windows welcoming in plenty of natural light during daytime games. A few distractions are on standby (pool, foosball, video poker machines, and a vintage Midway arcade machine) in case whatever you're watching on one of more than 30 televisions turns out to be a dud.
How to book: Book a reservation online.
Tuesday
5:00 PM - 10:00 PM
Wednesday
5:00 PM - 10:00 PM
Thursday
5:00 PM - 10:00 PM
Saturday
5:00 PM - 10:00 PM
Sunday
11:00 AM - 10:00 PM