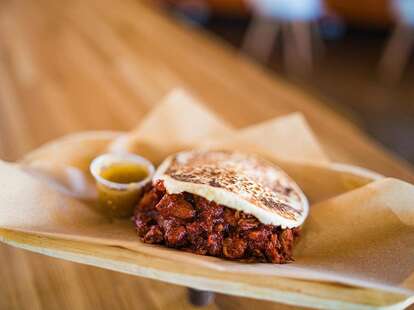 One of the latest restaurants to swing open their doors along Grand Avenue, Testal Mexican Kitchen is a tribute of sorts to the culture and cuisines of Northern Mexico's state of Chihuahua. Testal's straightforward menu acquaints you with uncomplicated Chihuahuan staples, namely perfectly prepared burritos abundant with poblanos, pork, and potatoes, among other savory ingredients. And what's a meal without a bev? Testal offers a short selection of unique housemade agua frescas, including a Roasted Corn Drink and a Chia and Lime Pick-Me-Up, that can keep you satiated.
The gist: A destination for Northern Mexico cuisines, Testal recently swung open their doors in Downtown Phoenix's ever-growing Grand Avenue neighborhood.
The food: A lineup of hearty burritos and crushable gorditas rule the menu here. For our vegan friends there's plenty of vegan-friendly options but certainly no shortage of protein-heavy picks, including gorditas and burritos stuffed with shredded beef, saucy pork, and even crispy chicharrones.