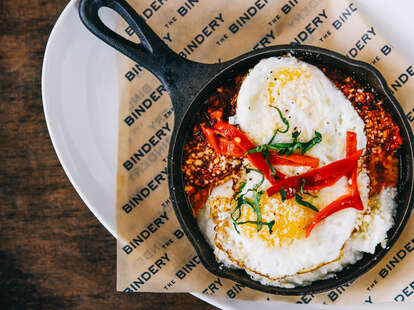 Photo by Lucy Beaugard, courtesy of The Bindery
Where to Order a Thanksgiving Feast in Denver
This year, The Bindery is offering both a Thanksgiving dinner pickup as well as a "sides and pies" pickup, so you can choose whichever best fits your holiday planning needs. The dinner package has everything you need to feed a party of eight to ten folks, with a 12 - 16 pound. seasoned and whole roasted turkey plus gravy, cranberry, apple and ginger relish, wild mushroom and italian sausage stuffing, Brussels sprouts and speck gratin, black garlic mashed potatoes and bourbon mashed sweet potatoes, and parsnips, pears, peas and caramelized onions. Pies are 9" and you can select from pumpkin ginger pecan, apple pear caramel, or chocolate chess. Available sides include truffle mac & cheese and kale salad, and potato buns or artisan sourdough from the bakery.
Reserve your time slot for pick up on Wednesday, November 24th or Thursday, November 25th. $400 per dinner package (serves eight), sides and pies prices vary.
8 Women-Owned Restaurants to Support in Denver
Chef and owner Linda Hampsten Fox has cooked around the world and spent time preparing food for celebrities like Dr. Jane Goodall, Dave Matthews, and Nancy Pelosi (not to mention raising her daughter as a single mom). With experience like that, it's no surprise that she was able to bring her vision of an elegant, European-inspired eatery to fruition when she opened The Bindery in late 2017. Whether you stop by for Greek yogurt with mango, ginger jam, cashew-pepita, and coconut crunch and a pastry to-go from the market on a weekday morning or settle in for sophisticated dishes with a playful edge like the butternut squash and rapini risotto in the evening, The Bindery is a place that adds a dash of approachable elegance to the Mile High City.