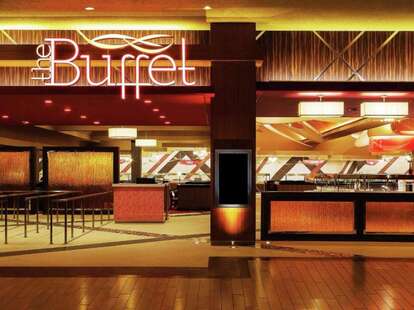 Photo courtesy of The Buffet at Excalibur
You may be noticing a trend. The Buffet at Excalibur is operating as a brunch buffet five days a week (Thursday–Monday) 8 am–3 pm. The options are relatively routine with equal weight balanced between breakfast and lunch dishes. The made-to-order crepe and omelette stations draw the longest lines. No surprises, but not a bad deal for Strip prices. The dining room hasn't changed much over the years, but remains a warm environment with a modern design and dark color tones.
Cost: $26.99 adults, $14,99 kids 5-11 Monday & Thursday. $29.99 adults, $15.99 kids 5-11 Friday-Sunday.
How to book: Just walk in. No reservations.