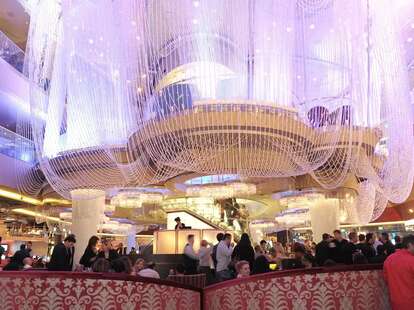 Photo courtesy of Denise Truscello
The Chandelier is a multi-story visual spectacle created by luminous beaded curtains of light. This three story bar experience provides a bit of playground, art exhibit and cocktail haven all at once. This high-energy spot in the middle of it all transcends the notion of the classic casino bar.
Monday
12:00 AM - 12:00 AM
Tuesday
12:00 AM - 12:00 AM
Wednesday
12:00 AM - 12:00 AM
Thursday
12:00 AM - 12:00 AM
Friday
12:00 AM - 12:00 AM
Saturday
12:00 AM - 12:00 AM
Sunday
12:00 AM - 12:00 AM
The most visually impressive lobby bar on the Strip passes through three levels at the Cosmopolitan with a curtain of lights and crystals dangling around it. Things are busiest on the ground floor, where trade show attendees linger and play video poker at the bar. The middle level is more secluded and ideal for a date while the top floor goes for an easy lounge vibe. Inspiration from Alice in Wonderland is seen in some of the decor and a few of the drinks, including We're All Mad Here (made with purple Empress gin) and Queen of Hearts (a fruity mix of vodka and cream). However, the best known cocktail at The Chandelier (or "Chandelier Bar" as locals tend to call it) is actually the off-menu "secret" Verbena, similar to a ginger-infused margarita but with an edible flower that alters the taste.
Monday
12:00 AM - 12:00 AM
Tuesday
12:00 AM - 12:00 AM
Wednesday
12:00 AM - 12:00 AM
Thursday
12:00 AM - 12:00 AM
Friday
12:00 AM - 12:00 AM
Saturday
12:00 AM - 12:00 AM
Sunday
12:00 AM - 12:00 AM