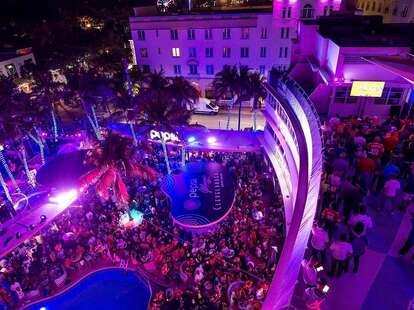 Despite the glut of upscale pool parties with gourmet chefs and high-thread-count cabanas, sometimes you just wanna kick back with a Miami Vice and some second-hand weed smoke. And for that experience, no party will ever top the venerable Clevelander, who's been throwing chlorinated ragers since South Beach was a retirement playground. They still know how to put on a solid daytime bash, though, with great food, an unpretentious crowd, and a frozen drink machine so the bartender can never tell you "sorry, the blender's broken." And if poolside beer pong is your jam, the Cleve has you covered there, too. The best part is if you can bust out an ID proving you live in Miami-Dade, they'll knock 20% off your bill.
When to go: Saturday and Sunday, 11 am to 6 pm
Cost: No cover before 2 pm; menu prices vary
Miami has plenty of fantastic sports bars perfect for taking in a game in air-conditioned comfort surrounded by folks who live here. But if you wanna watch football at a place where live DJs spin during commercial breaks while dancers in body paint gyrate around them and you sip frozen drinks under a palm tree, hit the Cleve. Locals daring to brave the tourists are rewarded with 20% off food and drinks, and beer buckets are a reasonable-for-the-Beach $30.