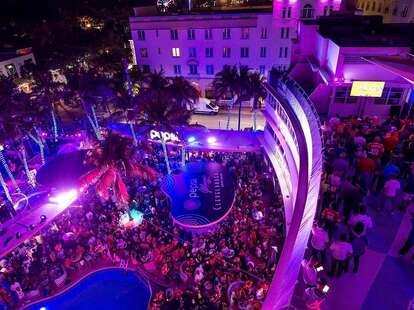 The Kush team took over the indoor sports bar at the venerable Cleve, replacing its touristy décor with tributes to old Miami and Ace Ventura: Pet Detective. The cocktail menu is a fitting tribute, boasting drinks with names like "Finkle is Einhorn" and "I still call it Joe Robbie." You can post under graffitied signs from the Palmetto Expressway in between watching games on its abundance of flat screens. Or, if you'd rather get out and enjoy the weather, the same menu is available outside along with one of Miami's best pool parties.
Despite the glut of upscale pool parties with gourmet chefs and high-thread-count cabanas, sometimes you just wanna kick back with a Miami Vice and some second-hand weed smoke. And for that experience, no party will ever top the venerable Clevelander that's been throwing chlorinated ragers since South Beach was a retirement playground. The crew here stills know how to put on a solid daytime bash, and the new Play pool party even adds in fun stuff like beer pong. The local burger masters at Kush just took over the pool-adjacent sports bar too, so if you want to get out of the sun and enjoy one of the city's best burgers it's just a few feet away.
When to go: Saturday and Sunday, 11 am to 6 pm
Cost: No cover before 2 pm; menu prices vary.