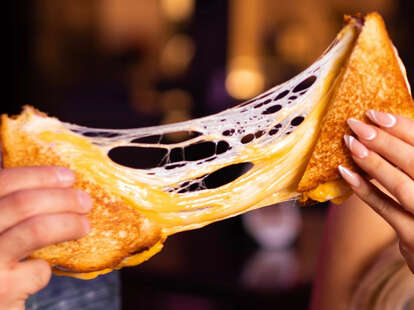 Photo courtesy of The Mouse House
Dawg House Saloon, a concept that originated on Nashville's Music Row, brings an easy party vibe to Resorts World with live music, lots of booze, and the property's official sports book, which includes giant screens for watching the latest game. It also has the Mouse House, an under-the-radar in-house food truck window that specializes in gourmet grilled cheese sandwiches. Choose from the Schoolkid (American, cheddar, provolone), Wake & Bake (American with fried egg and bacon), or Monocle (Fontina, Havarti, and Muenster). Just make sure to order the tomato basil soup for dipping and a corn dog muffin… just because. Mouse House also has five loaded hot dog recipes.
How to order: Just show up and order.