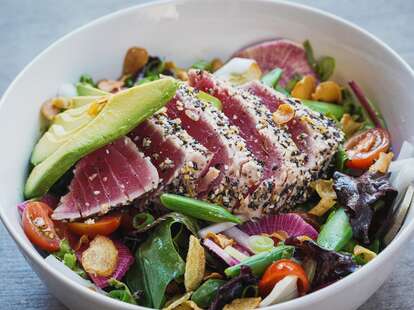 Photo courtesy of The Presley
The Presley makes the most of its nearly 2,100-square-feet of dedicated outdoor dining space with cleverly styled swing loungers, cozy couches, and luminous fire pits. Executive Chef Todd Nash's menu features classic American fare including lobster and shrimp sliders, horseradish-crusted salmon, grilled pork prime rib, and a variety of flatbreads, sandwiches, and salads. The playful beverage menu incorporates twists on classic cocktails, including a Dole Whip Mimosa and a Lava Flow slushy.
How to book: Make reservations for indoor or patio dining online. Walk-ins are accepted if seating is available.