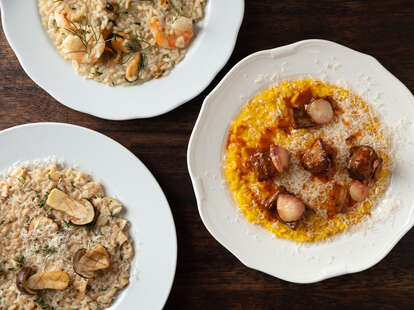 Photo by Molly DeCoudreaux, courtesy of The Tailor's Son
The Most Exciting Restaurants in San Francisco Right Now
The gist: The latest opening from Back of the House Inc. restaurant group, The Tailor's Son showcases comforting, Northern Italian fare alongside classic cocktails in the former Elite Cafe space.
The food: The menu leans heavy on the vegetables, with ample antipasti showcasing fall flavors, including chicory topped with anchovies and a boiled egg, grilled endive with pear, gorgonzola, and brown butter, and fritto misto. Other menu highlights include fresh pastas and a dedicated risotto section with four options on offer, including one made with squid ink and another with bone marrow.
The cost: Starters and snacks are $13-$16, pastas and risottos are $18-$24, and mains are $22-$56.