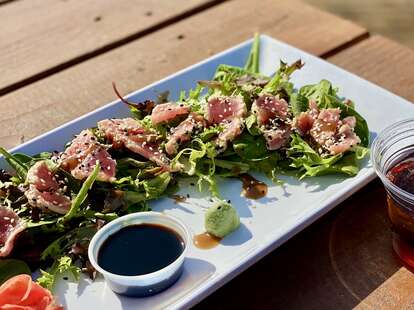 A pier in the shape of an arrow stretches over and points out into the Pacific Ocean. At the point of the arrow sets the best little piece of seafood heaven in Imperial Beach—some say, in the world.
It doesn't get more seaside than Tin Fish, located at the very end of the Imperial Beach Pier, completely surrounded by water. Fish and chips are their best seller, lightly buttered cod, dredged in Tin Fish's secret breading mix (they call it "Gold Dust"), then fried golden brown and delicious, alongside crisscut fries and slaw that hits just right. Salmon lovers can find steaky, meaty cuts grilled or fried in meal-sized salad plates, platters with fries, and slaw, tacos, burritos, and sandwiches, but that goes for almost every type of seafood they sell, so your options are practically endless.
How to book: Indoor counter seating and outdoor patio/picnic tables are available on a first-come basis.