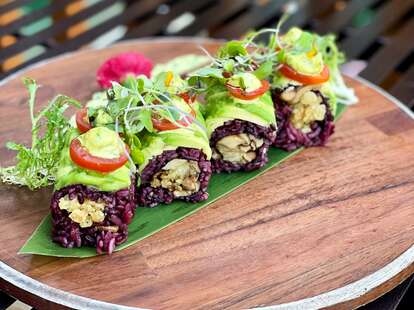 Photo courtesy of RakiRaki Commons
Junya Watanabe's latest concept combines his Convoy District and Little Italy restaurant clusters—The Yasai by RakiRaki, his vegan sushi spot, and Matsuoka, its non-vegan counterpart, along with Raki Raki Ramen and JCK, Junya's Crispy Karaage, into one-stop open spaces. To replicate the texture and flavor of conventional sushi, chef Hajime Matsuoka ferments, torches, grills, smokes, boils, and fries various vegetables, depending on the type—each vegetable requires a different treatment, and sometimes a combination of two or more steps are necessary. Chef Matsuoka also helms the sushi menu at his namesake Matsuoka with nigiri, sushi rolls, temari sushi, a traditional ball-shaped sushi, and seasonal kaiseki bento boxes.
How to book: Reservations for The Yasai can be made online. Order takeout via your favorite location.