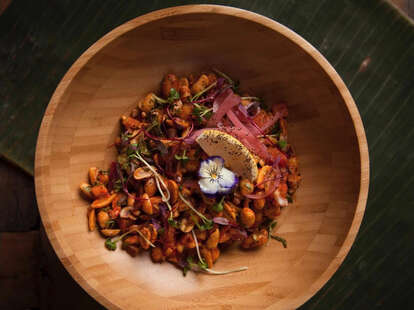 Photo by Jon Estrada, courtesy of Toddy Shop
The Toddy Shop no longer has a brick-and-mortar location, but continues to serve an inventive take on Indian cuisine at festivals like Life is Beautiful and Vegas Unstripped with private catering engagements and pop-up collaborations with the likes of the Vegas Test Kitchen, Monzu, Yukon Pizza, and DW Bistro. Chef Hemant Kishore's recipes and techniques are influenced by Kerala, a southwest coastal region of India that favors tropical flavor profiles and the use of coconut milk instead of heavy creams—or coconut oil in place of common mustard oils. The region is also big on seafood, but Kishore is fond of adding flavor and intensity to vegan dishes as well.
How to order: Follow Toddy Shop on Instagram for the latest pop-events. Call 702-255-5588 to inquire about catering and private events.