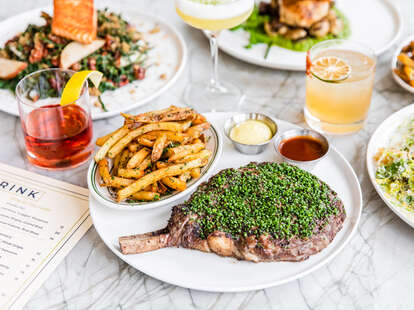 Where to Eat in Houston Right Now
The gist: As part of boutique hotel La Colombe d'Or's grand reopening comes this luxuriously renovated day-to-night restaurant spotlighting Chef Jonathan Wicks' modern European cuisine with a Houston twist—all in the stately dining room of a 1920s mansion.
The food: Stop in for varied breakfast options like Chilaquiles, Bagels and Lox, and a Sourdough Tartine served with avocado, egg yolk, and furikake. Dinner is a similarly international affair, from the appetizers (Curried Carrots with labneh, fresh-caught Gulf Crudo) down to the entrees (Bucatini with squash and heirloom tomatoes, Red Snapper served Vietnamese-style with vermicelli, chili, and basil). Similar to the bistro's neighboring tavern Bar No. 3, Tonight & Tomorrow coolly boasts references to creative visionary Wes Anderson and his film Rushmore with a Bourbon-spiked Cold Brew Cocktail.
The cost: Starters $13 - $22, dinner mains $38 - $40, lunch, breakfast, and brunch mains $14 - $40, cocktails $15, soft drinks $8.