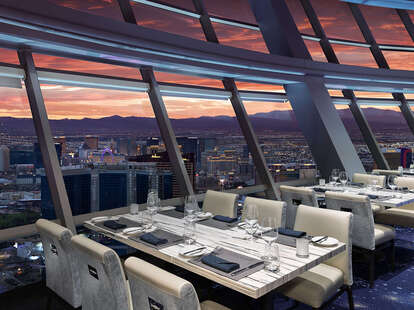 Photo by Anthony Mair, courtesy of Top of The World
Located more than 800 feet above Las Vegas at The STRAT Hotel, Casino & SkyPod, the award-winning Top of the World offers a dining experience like no other. This Las Vegas fine dining restaurant features culinary delights served in an elegant atmosphere with unparalleled views of the city as the ...
Tuesday
4:00 PM - 11:00 PM
Wednesday
4:00 PM - 11:00 PM
Thursday
4:00 PM - 11:00 PM
Saturday
4:00 PM - 11:00 PM
One of the best things about the 1,149-foot-tall Stratosphere tower (now officially The Strat), is the Top of the World restaurant on the 106th floor. The closer you sit to the floor-to-ceiling windows along the edge, the better, since the circular dining room revolves slowly for complete 360-degree views of the Las Vegas Valley. Give it about 80 minutes for a full rotation. And don't panic if you see a person drop past the window. That's just the SkyJump, a modified bungee ride from the top. The menu and kitchen team has evolved over the years, but American classics have always been the heart of the menu. Whether you get a grilled bone-in filet, stuffed lobster, or lamb chops, anything pairs well with those views. If you're ready to get down on one knee, you can even work in a wedding proposal for a meal that will never be forgotten.
How to book: Place a reservation online or call 702-380-7711.
Tuesday
4:00 PM - 11:00 PM
Wednesday
4:00 PM - 11:00 PM
Thursday
4:00 PM - 11:00 PM
Saturday
4:00 PM - 11:00 PM