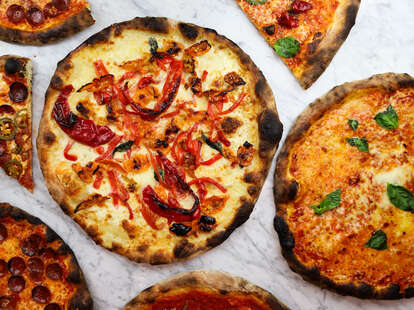 Photo courtesy of U Street Pizza
The sister restaurant and next-door neighbor of one of our favorite Italian spots in the city, opened earlier this year courtesy of restaurateur Maria Petulla and executive chef Chris Keyser, offering a casual, California-inspired pizzeria with seasonal dishes and well-sourced ingredients. For example, the dough is made from artisanal wheat sourced from Washington and Vermont and fermented for two days before it's topped with hyper-seasonal ingredients from local farms and cooked in an electric deck oven. In lieu of traditional parmesan, Keyser tops each pie with Fiscalini cheddar from Modesto. The Petaluma-style pizza presents a compelling vegetarian option with Petaluma mozzarella, grandma sauce, Pecorino Romano, and California olive oil, or go big with the vodka pepperoni that's doused with creamy vodka sauce and Fresno peppers.
How to order: Walk in or make reservations online.