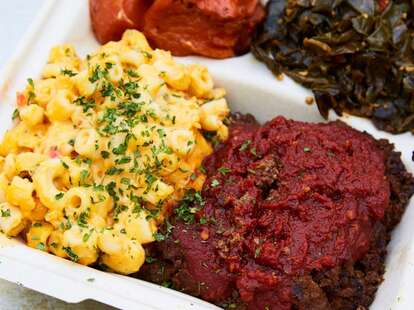 Photo courtesy of Vegan Mob
Photo courtesy of Vegan Mob
If you heard a record scratch when you saw the name of this restaurant and remembered you are reading about the best barbecue spots, just hold your horses before you get all-fired up. Vegan Mob is absolutely barbecue. It comes courtesy of Toriano Gordon, a rapper-turned-chef (born in the Fillmore) who works magic with soul food and barbecue fusion. Not convinced? Just take a look at the line. Pair the Texas-style "brisket" and "ribs" with an order of "bacon" collard greens. The California Barbequito is another standout: a giant tortilla filled with smoked "brisket" and "smackaroni", with melted cheese, french fries, guac, sour cream, and a side of mob sauce. The SF food truck is temporarily closed (with occasional pop-ups you can look out for on Instagram), but you can still order pickup in Oakland.
How to enjoy: Order takeout online.
Vegan Mob started as a barbecue spot with multiple walk-up windows in Oakland not even two years ago and has already expanded to a food truck in SF with more on the way. To call the food barbecue doesn't do it justice. There are lots of vegan barbecue options on the menu—brisket, links, rib tips—but you can also get the brisket in a burrito stuffed with macaroni and cheese, barbecued baked beans, coleslaw, and guac, or Philly cheesesteak-style with grilled onions, bell peppers, guac, slaw, and melted nacho cheese on a soft roll. The menu also offers deep-fried spring rolls filled with "smackaroni' and candied yams with country sausage gravy on the side, and a deep-fried grilled cheese. Who's the mastermind behind these concoctions that are a dream come true for everyone, but especially vegan stoners? Chef and founder Toriano Gordon, an SF native who grew up in the Lower Haight.
How to enjoy: Walk up to the window (outdoor seating available) or food truck. Order online ahead of time to avoid the line.