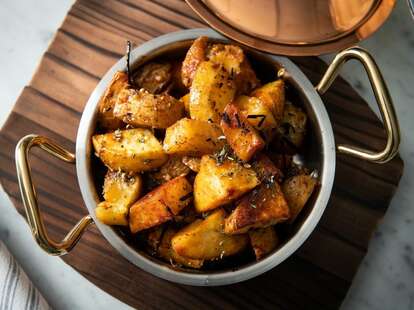 19 NYC Restaurants That Have Thanksgiving Dinner Covered
This popular SoHo spot is celebrating its first Thanksgiving with a three-course menu available in the greenhouse-like dining room. Chef George Mendes is serving homemade sourdough to start, along with traditional starters like squash soup and a baby lettuce salad, as well as more unexpected options inspired by the chef's Portuguese heritage like shrimp "alhinho" with sweet smoked pimenton, garlic, olive oil, and pressed shrimp jus. For main courses at Veranda, choose from all-natural turkey with chestnut-brioche stuffing, lightly smoked Yukon potato puree, and white button mushroom stew; aged beef tenderloin with hearth-roasted potatoes, carrots, and a black peppercorn red wine sauce; arroz de pato with duck confit, chorizo, orange, and crispy duck skin; and more. Pumpkin spiced cheesecake with a graham cracker crust and toasted meringue, warm apple crisp a la mode, and a chocolate pecan tart round out the dessert options.
Where to Grab a Drink in NYC Right Now
This April, the debut of Veranda marked chef George Mendes' return to the NYC culinary scene since closing his celebrated Iberian-inspired restaurant, Aldea, early last year. In partnership with restaurateur David Rabin, the new eatery is located on the second floor of ModernHaus Soho (formerly The James), and in addition, includes The Bar at Veranda, an intimate cocktail destination with drinks spearheaded by Jonny Swet (The Skylark, Rogue and Cannon). With views overlooking Grand Street, order snacks from chef Mendes like julienne french fries or crispy salt cod croquettes with signature drinks like the Wanderlust (mezcal, thai basil, coconut, absinthe) or Drink Pink (pink gin, strawberry, rhubarb bitters).