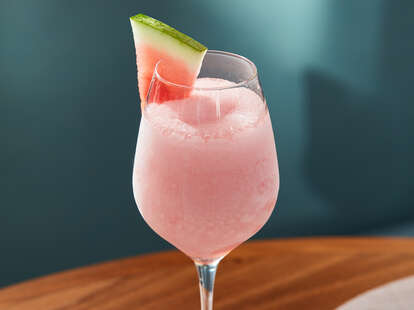 Featured In
28 Awesome Outdoor Dining Options in NYC
This new venture from chef George Mendes marks his return to the NYC culinary scene since closing Aldea last year. Just as the name implies, Veranda sits above the streets in SoHo with a retractable pergola roof and greenhouse vibes that work perfectly for its spring debut. A few different bars and dining spaces make up the spot, so in addition to the restaurant's globally inspired American fare, there's also additional destinations for before-dinner drinks like at Bar at Veranda or light bites al fresco at The Bar Back.
Where to Grab a Drink in NYC Right Now
This April, the debut of Veranda marked chef George Mendes' return to the NYC culinary scene since closing his celebrated Iberian-inspired restaurant, Aldea, early last year. In partnership with restaurateur David Rabin, the new eatery is located on the second floor of ModernHaus Soho (formerly The James), and in addition, includes The Bar at Veranda, an intimate cocktail destination with drinks spearheaded by Jonny Swet (The Skylark, Rogue and Cannon). With views overlooking Grand Street, order snacks from chef Mendes like julienne french fries or crispy salt cod croquettes with signature drinks like the Wanderlust (mezcal, thai basil, coconut, absinthe) or Drink Pink (pink gin, strawberry, rhubarb bitters).