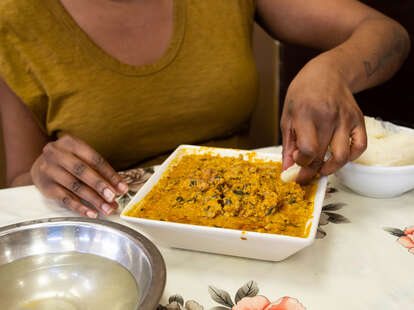 Photo by Joleen Zubek for Thrillist
Specializing in Nigerian cuisine, this Inglewood mainstay is a great option for those seeking a sit-down experience before or after a game. Choose from staples such as Egusi, a soup composed of leafy greens, ground melon seeds, and goat, which pairs well with fufu, or pounded yams with an almost mochi-like consistency that's ideal for dipping. Feel free to get messy, they even set down a small bowl of water to clean your fingers mid-meal. The Jollof Rice, made with tomatoes, onions, and other spices, packs a serious punch, and adding an order of plantains is a no-brainer. To quench your thirst over the course of your meal, choose from a selection of palm juices or ginger beer.
How to order: Walk-ins only.
Fufu went viral this past year and Nigerian restaurant Veronica's Kitchen was one of the breakout stars. It's a spongy dough made of cassava yam and other flours, blended together. Fufu is unseasoned and meant to be used as a scoop for soup. At Veronica's Kitchen, it's often ordered with egusi soup, made with ground pumpkin seeds, habanero peppers, ground crayfish, and a choice of meat. Okro soup, made with okra, is also a popular option. Newcomers can dip a toe into the cuisine by trying jollof rice, seasoned rice with a side of plantains.
How to order: Veronica's Kitchen is open for dine-in and takeout. Delivery is available online.