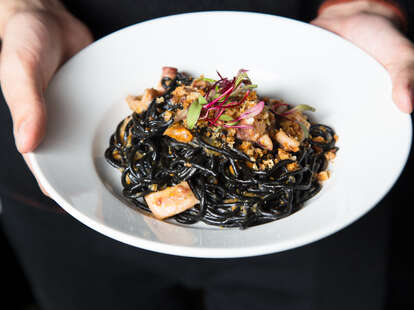 At Vinateria, we believe in the enduring relationship between fresh, deliciously prepared food and life's moments of enjoyment. It is the nuance and details that matter. Vinateria is a place where the food is impressive, and our sleek setting is intentionally unpretentious and approachable.
Tuesday
4:00 PM - 11:00 PM
Wednesday
4:00 PM - 11:00 PM
Thursday
4:00 PM - 11:00 PM
Saturday
12:00 PM - 11:00 PM
Sunday
12:00 PM - 11:00 PM
Yvette Leeper-Bueno's Vinateria brings a piece of Italy to Harlem. The wine list is massive and as the cooler months stroll in, a nice glass of red (or white) wine will help keep you warm. In between sips though, take advantage of their dinner menu, which offers various pastas including lamb sausage rigatoni, black spaghetti, and rosemary pappardelle. Finish your meal off with one of their decadent desserts like the olive oil cake or vanilla bean creme brulee.
Cost: Brunch entrees start at $18.50, dinner entrees start at $15
Order this: Mafalde short rib ragu and a glass of Cuvée Felix de Biac
How to order: Seating for outdoor dining is first come, first served. Order pickup via website or delivery via DoorDash, Seamless, UberEats.
Tuesday
4:00 PM - 11:00 PM
Wednesday
4:00 PM - 11:00 PM
Thursday
4:00 PM - 11:00 PM
Saturday
12:00 PM - 11:00 PM
Sunday
12:00 PM - 11:00 PM