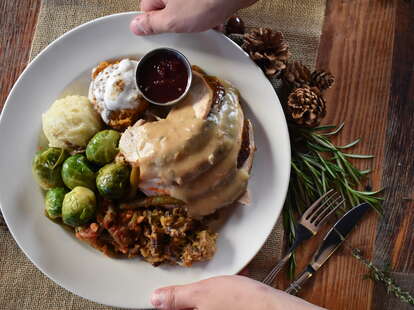 Photo courtesy of Virgil's Real Barbecue
Photo courtesy of Virgil's Real Barbecue
Voted one of the best Las Vegas BBQ restaurants, Virgil's Real BBQ at the LINQ Promenade on the Las Vegas Strip is the place to go for hearty southern BBQ and exceptional craft beer. Virgil's is just walking distance from the beautiful Bellagio fountains and surrounded by the biggest attractions ...
Monday
11:00 AM - 10:00 PM
Tuesday
11:00 AM - 10:00 PM
Wednesday
11:00 AM - 10:00 PM
Thursday
11:00 AM - 10:00 PM
Saturday
8:30 AM - 11:00 PM
Virgil's Real Barbecue has a Southern-style feast for six to eight people, featuring an 18-pound Smoked Turkey with giblet gravy, Mashed Potatoes, Cornbread and Sausage Stuffing, marshmallow-topped Sweet Potatoes, Cranberry Sauce, Candied Brussels Sprouts with pecans and smoked bacon, Creole Green Beans, and buttermilk biscuits. If that sounds like too much, individual plated portions are available when dining in.
Cost: Full feast is $295. Individual plates are $42.95. Add on an apple or pumpkin pie for an additional $25.
How to book: Feasts are available for dine-in, delivery, or takeout. Place an order online or call 702-389-7400 for reservations.
Barbecue isn't always easy to find on the Strip, which makes Virgil's Real BBQ a welcome sight at The LINQ outdoor promenade. The concept originated in New York (and has another location in the Bahamas), but the Vegas version is the only one with a live music stage and was the originator of the Bloody Mary Bull Rider, served in a large mug with brisket, shrimp, and bacon as garnish. Booze also comes in the form of draft beer, whiskey, and one-gallon "Party in a Jar" cocktails to share. The two-level restaurant has a second-floor patio and is an unapologetic tourist magnet, but takes its food seriously with two custom-designed smokers on site that warm up meats for up to 10 hours over a combination of hickory, oak, and fruit woods. The idea is to cover a wide variety of barbecue styles, from sweet Memphis-style ribs to tangy Carolina-inspired pulled pork. Try 'em together with a half-chicken, brisket, two sides, and cornbread in the Pig Out platter for two.
Monday
11:00 AM - 10:00 PM
Tuesday
11:00 AM - 10:00 PM
Wednesday
11:00 AM - 10:00 PM
Thursday
11:00 AM - 10:00 PM
Saturday
8:30 AM - 11:00 PM