A roaring fire, a deep armchair, comfortably-soft Bossa Nova, and a glass of prime scotch in your hand. Could it get any better? Only if Grace Kelly was there...it was a shame when we lost her. Anyway, a night as serene as this is actually attainable and won't actually cost as much as you think. Masterfully-crafted scotch whisky doesn't have to come with an overdrawn bank account hanging over your head. 
With the help of the experts behind WhiskyAdvocate.com, we found 11 bottles of scotch that each cost under $50, but taste like a month's paycheck. Check it out and get that fire started, cap'n. 
Recommended Video
You Can Fit This Grill In Your Backpack
Compass Box Great King Street
Price: $45
This is a scotch that truly believes in the art of the blend. Mixing Lowland grain whisky with a combination of malt whiskies aged in oak barrels and ex-bourbon barrels from all over brings tasting notes of vanilla ice cream (yes!) and stewed pear tart (YES!). This golden scotch blend is rife with unique flavors that will surprise even diehard whisky drinkers.
The Glenlivet French Oak 12 Year Old
Price: $36
$36 seems almost suspiciously low for such a fine bottle of scotch—but Glenlivet has had almost 200 years to figure out the process. The name of the game is wood: Glen's 12-year-old bottle boasts hints of sandalwood paired with vanilla and mint. Let this bottle give you wood. Sorry. 
Glenmorangie Original 10 Year Old
Price: $45
Glenmorangie is a name even the novice scotch drinker can trust. The 10-year-old is fruity, but not too fruity; spicy, but not too spicy; and floral, but not like a bouquet—if that makes sense? Well-balanced, fresh, vibrant, and vital for those sexy alone-time moments. Not those kinds of alone-time moments.
Cutty Sark Prohibition Edition
Price: $30
Launched on the 80th anniversary of the abolishment of Prohibition, this Scotch gives a nod to the old-time bottling style with its black opaque bottle design and cork seal. It's a favorite in the Supercompressor office because of its robust taste and balls-to-the-walls 'tude.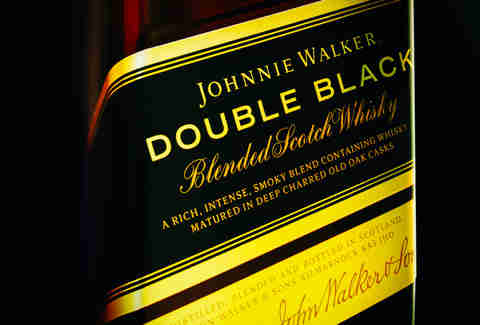 Johnnie Walker Double Black
Price: $40
We all know Johnnie Walker—classics are classics for a reason. Double Black changes the game by adding a (non-literal) sh*t ton of fruit to the flavor profile. Apple, orange and fruit—all charred to perfection without giving up the signature Johnnie taste. 
Highland Park 12 Year Old
Price: $46
This scotch is like a solar eclipse. One just can't help but stare at the color of Highland Park; it's a deep warm amber that you can almost taste. The 12-year-old's heather-honey taste is attributed to the time its spent in ex-sherry casks—which gives this bottle some individuality and depth. All the good for $46.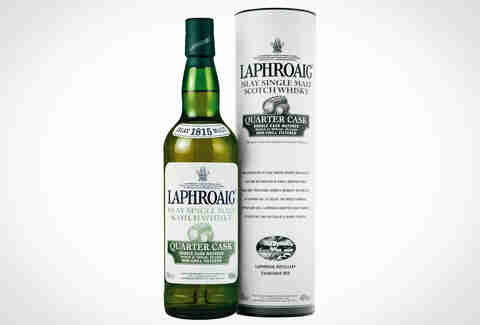 Laphroaig Quarter Cask
Price: $50
This is the scotch-drinker's scotch. A scotch that tastes like scotch—burnt rubber, smoke, and Robitussin, oh my! But, I'll be damned if it's not delicious. Laphroaig is a whisky giant that has been going strong since 1815, so you know you can trust them. The smaller cask size ensures a level of quality and care that some big-wig fat-cat bottles can't promise—which you can taste from its oaky finish. 
Monkey Shoulder Blended Malt Scotch Whisky
Price: $29
We haven't been able to get Monkey Shoulder off our minds since they made their way to our HQ last month. Monkey Shoulder is a sweet subtle scotch that's perfect for mixing—but can still stand on its own. It goes down easy, too—truly the kind of whisky you can share with friends...and special friends. 
SIA
Price: $50
Ripped from the pages of Kickstarter, this crowd-funded scotch turns expectations upside-down by holding its own against legacy like Laphroaig and Glenlivet. With a flavor profile of dried apricot, honey, and tangerine, you can expect some serious depth to this new-fangled scotch.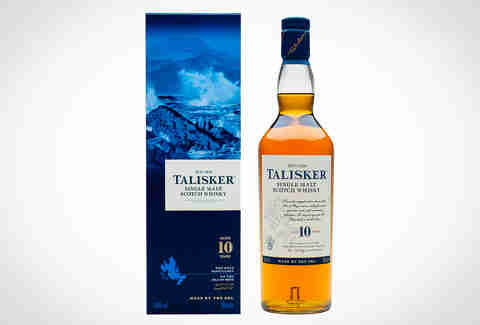 Talisker 10 Year Old
Price: $50
Don't be afraid of the sweet, spicy black pepper and sea salt taste the 10-year-old bottle of Talisker will latch onto your tongue. It's a bold-as-hell flavor scotch drinkers should not fear, but embrace. An intense smokiness bursts through the sip, takes your mouth out to dinner and then brings home for sexytimes. 

Jeremy Glass is the Vice editor for Supercompressor and loves his scotch like he loves his coffee: in a cup.