If you're going to a city you've never been to before, you might not have "a guy" you can call. While roadtrippin' with a baggie of the green stuff doesn't usually present much of a problem, smuggling it on a plane means dealing with the increased pressure of uniformed security, x-ray machines, and dogs.
Fortunately, the TSA actually isn't actually that interested in stealing your stash. They're just only looking for guns, bombs, and drug mules and will only bust you if they happen find it. So if you're careful, you can probably get away with it. Heck, people bring it on accidentally all the time.
Check your bags
Ironically, checked bags are often the least checked, according to a 2013 article by NYDailyNews. The TSA only really rifles through what the passengers have access to so you're probably good keeping it deep in your suitcase—hidden the right way, of course.
Use a vaporizer
Okay, so if you've manage to get your jolly green giant bag of sticky-icky onboard, you're going to need a way to smoke with discretion. The PUFFiT vape is a nifty piece that you don't even need to hide. Just stick it in your carry-on luggage and tell people you have asthma and will literally die if you don't use it.

Hide the goods in non-wacky tobacky
Pro-tip: no one is going to open your pouch of rolling tobacco and snoop around for illicit substances. Exercise caution by hiding the goods in the middle of the pack and stashing it all in these handsome leather pouches to prove to the authorities that you're nothing but a serious tobacco enthusiast.
Crotch-stash it!
Barry Cooper, a former narcotics officer, published this useful little snippet online in 2014: "The second best place is the crotch area of a male. Airport security is primarily interested in passengers carrying weapons and bombs, not small quantities of pot. After screening with metal detectors, police know destructive weapons are not on your person so a crotch search is rare."
Remember, stash it a bag in a bag in a bag—the ol' Matryoshka-doll weed bagging strategy.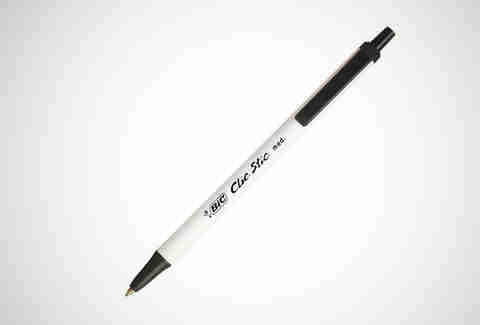 Use a pen
And, to think, you didn't want to join the Pen 15 club when all the cool kids asked you back in elementary school. A hollowed out Bic is the perfect hiding spot for either a little baggy or a rolled doob. For the extra bold, walk through the airport proudly presenting your drug-laced pen in your front pocket.
Stash it in peanut butter
This is a good tip if you're paranoid about the damn K-9 dogs. First, wrap your goods in plastic wrap—a lot of plastic wrap. Then, dig a well within a jar of peanut butter and put your baggy in the middle. The smell of the peanuts will throw off the dog and you can get through the airport free of paranoid. Bonus: You get to eat peanut butter. Skippy or Jif?
Wear your piece
There's a giant lie lurking in this stylish pants-tightening accessory. Deep within the Buffer Belt's buckle is a tiny little pipe for...well, you probably know what it's for. In the unlikely event that a TSA agent asks you about the tiny device, just tell them it's European fashion and only philistines hate Europe. Pro-tip: clean this thing as well as you can to ensure it's free from incriminating residue—that goes for any piece for that matter.
Bring edibles
No one in his right mind is going to stop you for carrying a chocolate bar—let alone confiscate it for "looking suspicious." Based in the glorious state of California—where anything goes—Kiva Confections makes dope dope-based chocolates with 45 milligrams of THC per serving.
Use the power of music, man!
Legendary pot enthusiast, Tommy Chong, once confessed to us that he would hide his stash under the strings in the neck of his guitar and sling it over his back in the case. Because you know who has short legs? Those drug-sniffin' narco dogs.
Baggy + shampoo
By hiding your stash in a bag, in a shampoo bottle, within a checked dopp kit, inside your checked bag, you've created in impenetrable barrier between the TSA + your goods.

Buy a stash box
Merely $25 will get you this genius hairbrush stash box with the totally inconspicuous body of a hairbrush. We didn't even know this thing existed prior to writing this article. The clever thing about the hair brush box is that you could literally walk past a police officer with it in your hand. Have you ever heard a cop say the phrase: "Stop right there and empty your hair brush!" Didn't think so.
Sorry to all the baldies out there—you're out of luck and, unfortunately, still bald.
You're welcome.

Jeremy Glass is the Vice editor for Supercompressor and wants to know how many pots you injected.