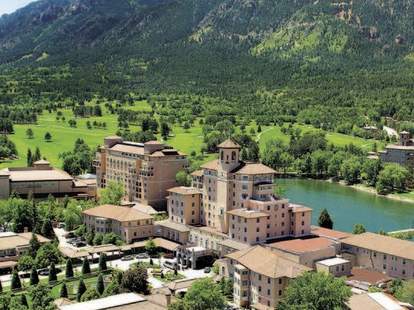 DC's fine universities provide America's youth the solidest of foundations, but they do nothing for you, as your foundation's already laid, and it's not like they have "super good-looking trophy husband" classes anyway. Instead of higher education, get fire education by snagging tickets to BBQ U
Proctored by the Baltimore-raised author of the Barbecue Bible, BBQ U's an early summer grill-camp, where after a lavish welcome dinner, you'll spend three days studying, smoking, and feasting on your homework at a remote Coloradan lodge where only pristine mountain views will rival your beastly cue creations gorge-ousness. 2009 was a straight-up ode to American BBQ, but this year the headmaster'll be pulling from his Planet BBQ new testament, which covers spit/rotisserie grilling, wood-fire ovening, beehive ovening (a chimney-less earthenwood contraption), and using open fire pits "like they would have 2000 years ago", back in the days of Old Old Old Old Old Old Old Glory. Morning classes ensure your work ends up as lunch (assessed by staff and, to make those assessments seem less harsh, paired with mucho beer & wine), with recipes hailing from, among other places, The Americas (e.g., salt-crusted chicken w/ tomato herb sauce, "Buccaneer" baby backs w/ pineapple BBQ sauce); Europe and the Middle East (Turkish adana kebab, Basque salt-crusted steaks); and Asia, which contributes the likes of Guamanian smoked chicken salad and a banana leaf-wrapped Malaysian skate -- the only thing that got Malaysians out of bed after losing the "world's tallest building" title.
All recipes will be provided to you in an elegant, leather-bound notebook, useful for studying for the final exam (seriously) -- a tough challenge assuming that, back in school, foundations weren't what you were focused on laying.