Sip summer Mai Tais and laugh at the Lauriol line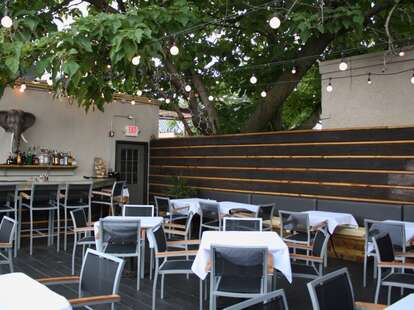 It's wise to open a new business next to a successful one to capitalize on spillover, which is actually why real estate next to BP stations is so wildly valuable. Ready to snatch frustrated line-standers from one of DC's busiest restaurants: Zabb.
Now open right across from Lauriol Plaza and its horde of sidewalk sojourners, Zabb's slinging Asian fusion across two levels including a roof deck canopied by a massive tree and rocking a bar with bamboo stools, which sounds like it'd be difficult to pass without noticing. Mains include chicken, steak, or shrimp "Yaki Soba", with the Japanese egg noodles/veggies stir-fried in plum sauce, a spicy surf and turf with marinated fillet tips & jumbo shrimp in a blended basil sauce, and lobster or soft-shell crab pad thai, not to be confused with pat thai, which is how Bangkok cops recover bootleg copies of Monster-in-Law. For sushi, they've got the Golden Fish Roll bursting with battered tilapia & blue crab and finished by crunchy potato, a tuna/ salmon/ whitefish joint in a garlic ponzu sauce, and one stuffed with shrimp tempura/ blue crab/ eel, topped with strawberry and kiwi wasabi, and called the "Redskins Roll", which is a phrase Doc Walker has been waiting to use since 1992.
The booze is similarly pan-Asian, with bottles of Asahi, Singha, Tsingtao, and Sapporo, plus cocktails like an OJ/ champagne Volcano filled with enough 151 to ensure that just like BP, if you're not careful, everyone will despise your crudeness.