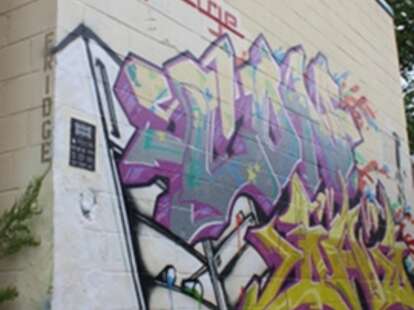 Art might uplift the soul, but stuffy galleries mean being looked upon with contempt just because you lack a ready opinion on "Baroque Impressionism in the Developmental Post-war Period". Or on art. For a more lively, back-alley gallery experience, check out The Fridge.
Debuting Saturday, The Fridge is a graffiti'd cinder-block squat housing 1000sqft of airy, sky-lit display space, where edgy local artists'll showcase their wares, and "surprise guest" DJs and live bands will replace the standard gallery soundtrack of respectful muted mumbling. Planned upcoming talent ranges from DC graffiti-king Borf, to an exploration of Iranian-American life winningly titled "I Ran Home", to a concert from the chesty, accordion & woodwind lo-fi duo The Sweater Set (two girls, one clarinet?). This weekend's opening show's deliriously schizo: work by "Decoy" (who insists she "would have been a nun" had she not turned to painting), including a ceiling-mounted take on the Sistine Chapel and "Our Father" (3 massive blue panels combining religious themes with brass knuckles); at 10pm, chairs come out for "experimental" magician David London, who eschews wands and doves for "celebrity toenail clippings" -- because hiding birds in your pants is too hygienic.
Because true gallery fans hang out in the gift shop, "The Fridge Store" will be stocked with graphic t's, spray paint/art supplies, and exhibit-inspired wall art priced below $200, so you can afford to cop some, despite your intimate familiarity with "Broke Recessionism".