American links for American cuffs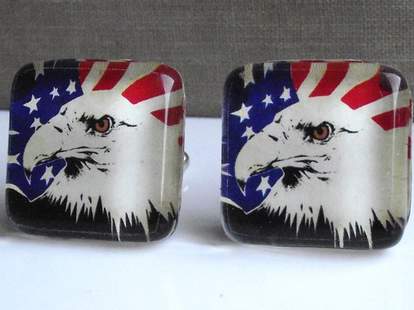 We Americans love reclaiming high-minded aspects of French culture, like our sexy young people turning their maid outfits into raunchy Halloween costumes, even if they look totally gross due to American-ly overindulging in their fries. Turning French cuffs into an excuse to salute ourselves: Historic Gems.
A one-woman operation based out of our lovely capital, Gems crafts ultra-patriotic, Colbert-worthy cuff links out of silver-tone and glass, including a just-launched pair done in collaboration with the National Archives, and made from the red twill tape used as binding for actual "U.S. Government documents" -- the very same thing Rand Paul promises to cut through, right after he's done using it to tie up college co-eds. Standard American pride includes designs like the 1" square Eagle Glass Tile with the iconic baldie and a blazing American flag in the background, Uncle Sam links with him wanting you, and document-based joints like the Bill of Rights Glass Tile (rocking the calligraphy'd text in tiny print), and a similarly displayed design with the Constitution, suggesting the Framers' intent was for you to look awesome. Marginally subtler patriotism comes via shrunken military propaganda designs, like "Do Less, So They'll Have Enough" with a picture of a jolly soldier toasting a coffee cup, "Treat 'Em Rough! Join the Tanks" with a dark blue cat pouncing on German panzers, and one with a floundering/smoking vessel and "Loose Lips Might Sink Ships", making it all the more amazing that Tiger Woods' Privacy is still afloat.
For the super gaudy American, they've also got 24" silver, ball-chained pendants slogan-ing everything from "Fight or Buy War Bonds", to "Grow Your Own! Be Sure", encouraging patriots to cultivate their own vegetables, an accomplishment worthy of you tooting your own (French) horn.