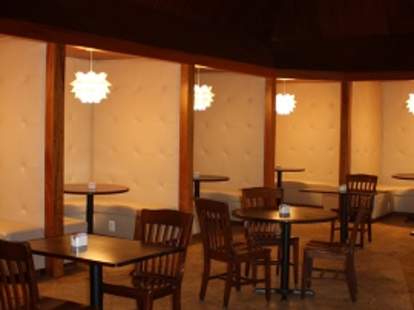 Attempts at hip reinvention often fall flat, like Steve Urkel's brief spell as the suave "Stephan", or that time everyone just laughed at your frosted tips and refused to call you "Chaz". Forsaking a thumping reinvention to return to its seafood roots, Hogate's Cafe.
Reopening with its original name, style, and mission after several years as the mega-lounge "H20", the Cafe is stage one of the return of the sprawling Hogate's restaurant proper; tucked into that larger complex, the church-ceiling'd, wood-paneled space is bordered by plush, white wraparound booths, and opens to a tented outdoor patio overlooking the SW waterfront's calmly lapping waves and rabidly lapping three-legged dogs. Grub's split 50/50 between surf and turf, with breakfast items like Shrimp n' Grits (w/ cheddar and English Muffin) and Hawaiian French Toast (Texas toast/bananas/ham/Panko), and lunch-ables including a crab-cake sandwich, the fried catfish/remoulade "Peaux Boy", and the chicken breast/Bleu cheese/Creole aioli "Black and Bleu", also what results from a fronté kick by Van Damme. Meanwhile, the "All Day, Everyday" menu (actually, 11am-10pm) is bite-heavy, with share-ables like Caribbean Wings w/ mango salsa, Cajun Popcorn Shrimp, and Catfish Fingers, now with double the whiskers.
If tooth decay excites you, hit the "Sweet Endings" section for the likes of mango sorbet, creme brulee, classic cheesecake, and warm milk and cookies, just like mom comforted you with, Chester.