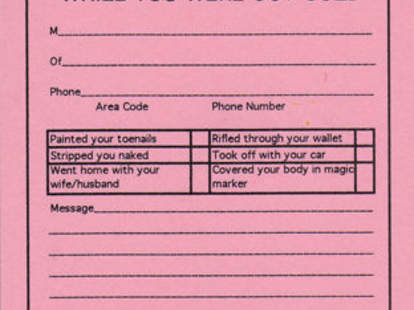 People rarely follow through on their sporadic moments of "you know what would be awesome..." genius -- if they did, the Juice Tiger clearly would have been invented in ancient Egypt, seeing as how those pyramids did relatively little to grind carrots into delicious beverages. For a guy who can't stop following through, meet Hogmalion
Out of whatever part of Baltimore has the best grass, Hogmalion's a one-man novelty factory, hawking absurdly original, ruthlessly funny kitsch that originate as random, untraceable thoughts in Hog's head, then, through the intensive process of vision-realization, emerge as "special holiday gifts". Completely inexplicable greatness includes fetus-shaped cookie cutters, the revolutionary "Che*A Pet" plant kit, hand-made soap disguised as sticks of butter (and oddly adorned with "Christ", "Satan", or "Love"), and a t-shirt reading "It Takes a Village Person", which, given the subtext of "YMCA", could lead to relatively few generations of said village. Unsurprisingly, there's also tons of drinking accessories: political wine-cork stoppers (from the Cheney/Bush/Rumsfeld/Rove "Four Corksman of the Apocalypse", to the "Supreme Cork Justices"); "Shakesbeer" illustrated coasters ("Et Tu, Brew?"); the sock-puppet-like "Wine Monkey" bottle sleeve ("the Lava Lamp of the oenophile set!"); and the "Winyl" wine rack, made from recycled records and purportedly "based on the metaphysical laws first outlined by Aristotle in his now classic text On Bad Ass Wine Stands"
So far, Hog's tour de force is the "While You Were Out Cold" (TM, bitches) message pad, an official-looking slip with spaces for day and duration of vulnerable unconsciousness, and checkboxes for deeds like "rifled through your wallet", "covered your body in magic marker", and "went home with your wife/husband" -- apparently if you explain your actions with hilarious novelty items, you really can do whatever pops into your head.