Award-wining District design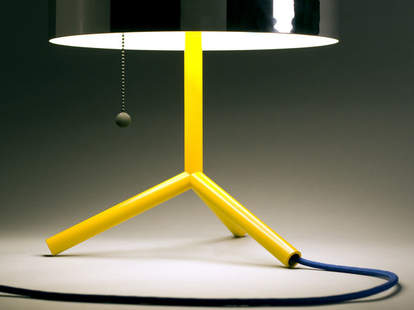 You don't always need to think big, unless you're making a mid-'80s comedy about magical age-changing, as no one wants to be stuck with 18 Again. For furniture from a prospective-architect who decided to think smaller, check out Atelier Takagi.
Originally intent on designing buildings, Tokyo-born, DC-based Takagi's time at RISD convinced him that he'd prefer to focus on what goes in them, leading him to craft clean-lined, minimalist homewares that double as his "outlet for an overactive imagination", fortunate, as it's hard to sit on a doodle of boobs. Larger pieces include the sleek black maple, 5-legged American Gothic Table, the geometric, award-winning Deconstructed Prism Table made entirely out of off-white quartz, and a series of more rustic pieces (including white oak benches/stools/tables with threaded legs) titled "Simple Machines", also the 9th grade physics unit that totally pulley'd your GPA down. And screw'd up your future. Smaller designs include lighting like the super simple, aluminum/steel, three-legged F/K/A Table Lamp and the hanging Bluff City Light made with an enameled-steel cage and copper socket (inspired by "trouble lights" in mines), as well as the leaf-shaped maple "Leafy Green Stool", whose first step should be eating more fiber.
Though not out yet, Takagi's currently prepping for an upcoming show by crafting new table lamps that're somehow inspired by parking lots, also great real-life places to find a 30 year old inside a 12 year old.