Hang gliding and kiteboarding await at Waves Village
Located on NC's optimally winded Outer Banks, Waves Village Resort is an 18-unit complex of pimped out condo-style rentables with a full-service kiteboarding & hang gliding school (where everyone gets an "A", for errr, airffort?).
For the fly-curious, the school lets newbies fly solo 15ft above the "East Coast's largest sand dune", and/or fly tandem on a 2,000ft, ultralight aircraft-towed glider.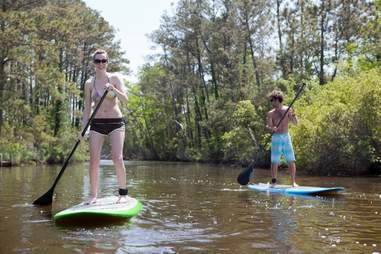 Stand-up paddle boarding is available for those that need a day away from the fresh gnar gnar, plus you get to say 'SUP a lot.
Offering kite boarding lessons of varying duration (from 3-6hr intros to the 2-day "Fast Track Camp"), you'll master fundamentals like "launch", "landing", "going shortsless", and "body drags".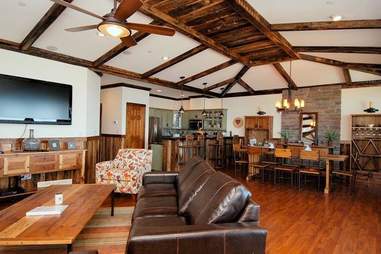 Post-shred session, hang in your room with huge plasmas and 200yo barn-wood beams. Or, go right outside to the sprawling shore-side "guitar shaped pool" (and hopefully see some G-strings?).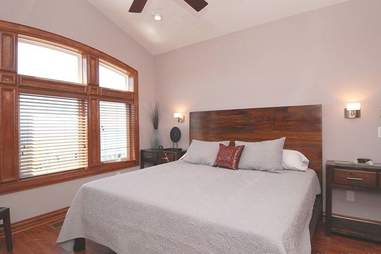 All units have views of your high-flying brethren out on the water and even have names like the "Love Shack", meaning it also comes standard with a room where the magic happens.
And if you can't make the magic happen in the bedroom, take it out to your private hot tub.
And the added bonus? Rooms come with a washer/dryer unit to ensure that you don't have to attend hang-gliding class with clothing that won't pass with "high" marks.