Niswander Ceramics Beer Mugs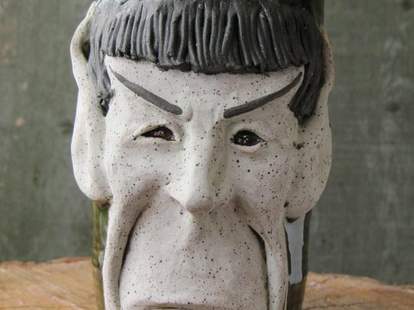 Pottery has perennially failed to live up to its promise, from today's high schoolers glazing their way to half-baked paperweights, back to the Etruscans, whose reputed mastery is undermined by the fact that all their crap is broken. Finally, one artist has put it all together, with Niswander Ceramics beer mugs.
Lovingly crafted by a DC native who takes her hand off the wheel only to blog about Yoda, John Cleese, and early Star Trek midriffs, Niswander churns out one-off, microwave/dishwasher safe beer steins & mugs, which themselves depict the cartoonish mugs of a range of pop-culture and culture-culture characters. Eclectic, film-based nods cover a stern-faced Spock, an intricately detailed Dr. Who, a green-glazed, 20oz "Curious Wild Thing", Johnny Depp as Jack Sparrow, and Bette Davis, whose hair is hollow gold, and whose lips are sweet surprise, but whose hands are often cold, on account of being a beer mug. Other brew-abettors include a blood-shot-peepered mummy, the inevitable but still welcome "Franken' Stein"', and a massive brown "Chimp Goblet" that, as if from a fairy tale, will turn you more and more into its likeness the emptier it gets.
Because not all artistic inspiration leads to novelty goblets, Niswander's also got a slew of other oddball pottery, from Dia de los Muertos salt & pepper shakers to a gnome perched in an outhouse reading Gray's Anatomy -- like you during pottery class, except you stood on a regular toilet and just got glazed.