See where the parties party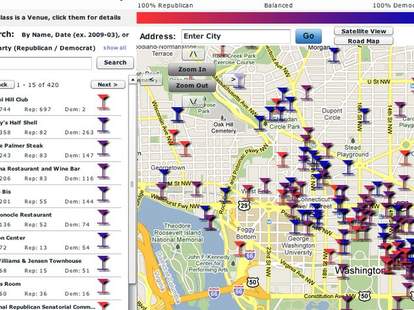 Appraising a politician requires delving into everything from economic philosophy, to religious views, to other stuff, but ultimately, it all comes down to one factor: at which venue does he wolf down his fund-raising pigs-in-a-blanket? Get the lowdown on DC throwdowns, with Party Map.
Populated with data procured by Open Secret (a non-profit that publicizes lobbying efforts), PM's a Google Map that provides a time-sucking glimpse into the festive world of political gatherings, albeit with entries limited to Democrats and Republicans, because how much data can you really collect about Nader's mom's basement? All host venues, from The Palm to the Black Cat to "the home of Robert Rabin", are displayed as martini glasses, with their color (on a spectrum from pure red to pure blue) representing the ratio of Rep/Dem events held in the past; clicking a glass reveals a numerical summary of events broken down by party-lines, as well as a table with dates, types (i.e., "luncheon", "reception"), sponsors, and recipients (if any) of the surplus cash from that $450 petit fillet. But wait, there's more: a search bar enables filtering for specific names (hells yes, Heath Shuler), venues, parties, or time-ranges, so you can chastise yourself for playing Halo all morning on 9/14/06, when you could have hit the "Texans for Henry Bonilla" breakfast at The Monocle...damn you alien hoards!
Conveniently, they've just added a link to a Google street view for each spot, so with the right luck, you'll spy a shot of your own tuxedo'd figure stealing out the door with a tray of snacks, in accordance to your guiding economic philosophy: "free shrimp!".