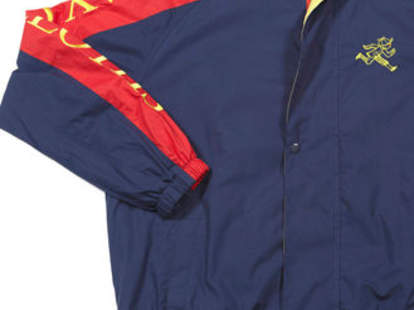 Hip-hop and boating have always gone together -- just think back to P. Diddy's yachtin' videos, or those fishing trips where your dad was constantly grabbing his crotch and referring to women as a "b**ches". Put that relationship on your back, with the spring/summer line from Play Cloths
Just docked, the expansive new drop from Virginia Beach's own Play follows a loose, preppy-nautical theme, an obvious direction for a brand mastered and commander'd by the rap duo Clipse. Starting with outerwear, there's the dress-blue "Up and Up" windbreaker, with a wide red stripe running sleeve-to-sleeve; hoodies like the slim-cut "Fisherman", whose bumble-bee interior evokes Christian metal pio-nerds Stryper; the down-filled, tennis-white "Bird's Vest", complete with polo-style popped collar; and a heather gray cardigan called "The Edge", whose own bright red collar might cause your band's vocalist to wear sunglasses indoors, at night, while saving gruel-noshing orphans everywhere. Button-ups come courtesy of the soft, whitish-gray, side-pocketed "Dry Up"; plaid joints like the 70s-looking "Slayer" in "maize"; and the louder "Hawk Eye", with broad yellow stripes wrapped around the biceps, because every gun zone should come with warning tape.
There's also a passel of accessories, highlighted by a breezy red or yellow scarf dubbed "The Compass Rose", referencing the icon on the map that indicates north, even as your fishing trips inevitably go south.