A more complete online wine shoppe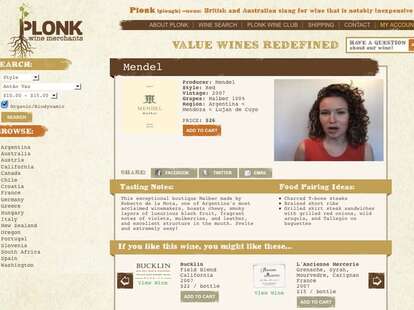 Most online shops fail to completely translate their brick n' mortar offerings to the netz, like virtual supermarkets that lack delicious cheese samples, or virtual pet stores that lack delicious puppy samples. Wait, puppy food samples. That's it. For a more thorough online wine shop experience, get a taste of Plonk Wines.
Just launched by an American Sommelier Association-accredited grape slinger, Plonk provides everything lovable about your neighborhood shop (from pairing recs to tastings), all from the comfort of your home office/laundry room; due to alcohol distribution laws, they ship only to a handful of states and mercifully, DC -- where apparently laws are only made, not applied. Handpicked "diamonds in the rough" bottles are all $30 max, easily searchable by style, price, and grape (from Aglianico to Zweigelt), browsable by region (from Austria to Slovenia), and accompanied by extensive tasting notes, pairing ideas, video commentary from the site's spunky creator, and "if you like this, you'll love..." suggestions, also how you ended up taking walks in the rain due to your affinity for pina coladas. Upping the community feel, Plonk's also got a wine club, where a $35/month membership gets you a "pick of the month" bottle and access to never-before-done "Winemaker Tasting Parties": pre-order specific 10% off 3-bottle packages, then hit the site at a specific time to enjoy growers guiding tastings and fielding your questions via video chat, at least until you ask if they'd consider "pairing" themselves with a younger man.
First up on the Parties: a Willamette Valley trio tasting that'll "explain why experts are calling Oregon the New World's answer to Burgundy" -- awesome, although it'll do precious little to satiate your craving for entire wheels of cheese, and the Baxter that loves them so much.