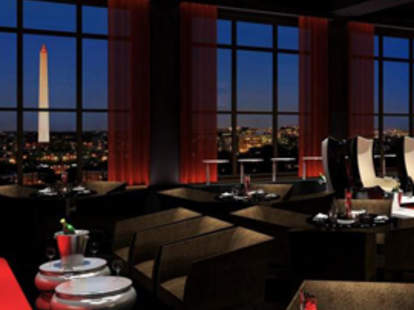 True wisdom comes from new perspectives, especially when that perspective is from above, in a luxurious penthouse filled with attractive women, as the "normals" scurry beneath you like so many ants. Man are you wise. Offering you that enlightenment, Point of View.
Opening tomorrow in the spanking new W Hotel, POV is a chic, top-floor sky-lounge with oversized, Alice in Wonderland-style black & red couches and glossy, darkly lacquered walls framing floor-to-ceiling windows, all bordered by a wrap-around terrace with views of the mall and the White House lawn, allowing you to play hard-hitting DC journalist by spending all day watching Bo eat his own poop. NYC cocktail revolutionary Sasha Petraske (Milk & Honey, Little Branch) was brought in to craft a drink menu that eschews sodas and canned mixers for fresh-squeezed fruit and vegetable juices, with all ice shaved (or cold-sculpted into perfectly formed spheres) from a 100+ pound block, which Mr. Miyagi will insist you crack with your face before making him a drink that he will enjoy as you sort his whites from his colors. Specialty cocktails include the gin/lime-juice/bitters "Fitzgerald", the St. Germain/Champagne/lemon peel "St. Hilaire", and the rye whiskey/ginger/club soda "Presbyterian", which you'll just have to accept differs meaningfully from the "Episcopalian".
Artisan cocktails are complemented by light fare small plates from the downstairs J&G Steakhouse, because if your perspective is that of a hungry person, you'll get lightheaded and fall off the edge, leading the normals below to totally bug out.