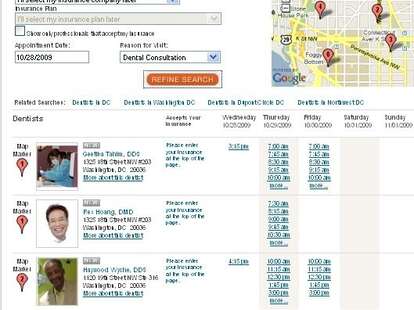 Some appointments can wait: your shower's still sort of draining without having been snaked, and because your roots look totally cute anyway, you can hold out for Esteban's schedule to clear. For the one kind of appointment that can't wait, use ZocDoc
Launching with 21,000 available openings, ZocDoc's an OpenTable for real-time doctor's appt. availability; the service actually started in NYC, and chose DC as their next stop after learning about our abnormally high wait period -- 30 days on average, two days longer than it takes a zombie plague to infect everyone on Earth except that Irish actor with the girl's name. Prior to launch, their army of Zoc troops worked tirelessly to integrate the myriad kinds of scheduling software used by doctors all over town, compiling a single database to determine actual availability; now, all you need to do is enter your address (or zip) and insurance provider/plan, and they'll return a list of accepting docs, their resume, and available slots, plus reviews posted only by those verified to have actually registered with said doc through the site -- eliminating the hilarious problem of one proctologist accusing another of being full of it. Once you've nailed down a doc, just select a day/time, and give the reason for your visit ("annual physical", "swine flu shot", etc.), and prepare to be whisked back to the magical land of Golf Magazine, June 2006.
Currently, the DC database only lists primary care physicians and dentists, but in the coming months they'll be expanding to include all sorts of specialists (NYC's currently got 13 types) -- perfect timing, if your snake's now draining worse than your shower.