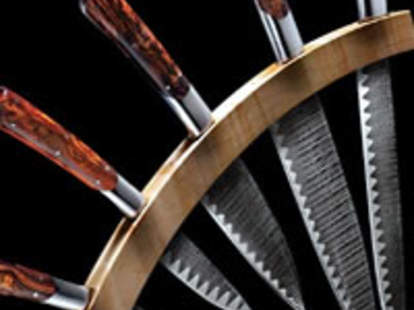 As the holidays approach, men's thoughts turn to the wonderful gifts they'd like to give themselves, like leather recliners, 72" plasmas, and knives so sharp they can slash belligerent mall santas into elf-sized chunks. For the latter, treat yourself to the ultimate: William Henry Fine Knives.
Winner of nine Blade Magazine (a real magazine) awards in six years, WH uses ancient Japanese forging techniques and samurai steel to create knives lethal enough to repeatedly intimidate an entire panel of Blade Magazine judges. Their alloy demands excruciating attention in the handcrafting stages (grinding the high-end stuff takes twice as long as standard steel), but results in a longer-lasting sharpness that'll remain deadly long into a bleak future when hyper-intelligent pigs hunt man. These masterful techniques benefit WH's entire catalogue
Pocketknives sharper than razors and handled with carbon fiber.
A culinary collection made up of murderous carvers and steak knives capable of lancing through prime rib like it was Jell-O.
Letter openers hewn from a single billet of titanium or hand-forged Damascus, substantial enough to fend off a food court full of lurching, zombie shoppers.
These primo slicers are available at top-flight jewelry/kitchen supply stores nationwide. So pick them up now for effortless steak, perfectly slit correspondence, and pocketknives that'll fit snugly against the throat of the jerk with the big TV and comfy chair.